The Breeze Knees!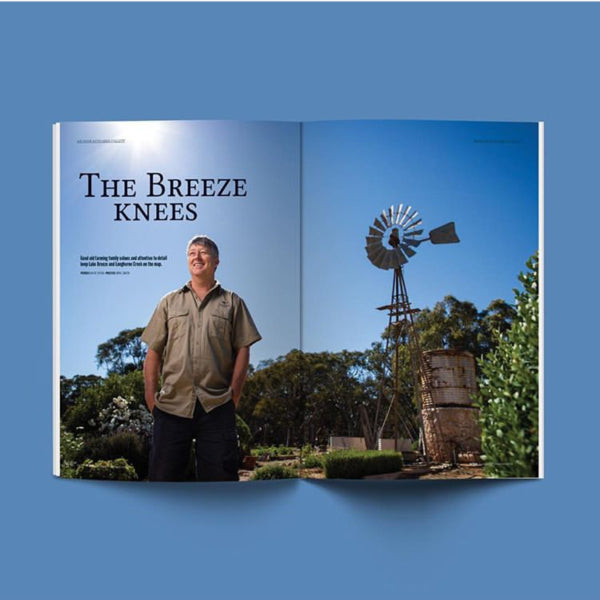 "Good old farming family values and attention to detail keep Lake Breeze and Langhorne Creek on the map."

The Jan/Feb 2019 edition of WBM Magazine features Greg as its cover story. Katie Spain interviewed Greg in a warts and all tale about life at Lake Breeze.

"The Follett's connection to this patch of South Australian land runs deep. They've farmed it since the 1850's and have grown grapes here for more than 130 years. Over the past 29 of those, Lake Breeze has accumulated more than 53 trophies and a gobsmacking 177 gold medals at major Australian wine shows. (…)."

"The early 90's were eventful for the Folletts. In March 1991, Lake Breeze opened their cellar door, a renovated 1930's limestone shed looking out over the old vines. Many-a-winemaker and writer Philip White attended. "Phillip wrote an article afterwards saying how many winemakers were there, because they wanted to make sure some of our fruit would still come to them." Greg laughs. "It was one of the only cellar doors that had opened for ages. The wine industry wasn't like it is now. Seven or eight years later it seemed like there was one opening every second week. (…)."
Strength of the region.
"From a wine side of things, Langhorne Creek is very consistent.  It's a bang for buck thing. If you look at the show record of Langhorne Creek and the wines that are being produced at the moment and what you can buy them for ... it's fantasitc."
"Stylistically there's a richness and a depth to the wines but there's also an elegance and drinkability. Soft tannins are often spoken about here. The wines are very rarely overdone or overripe. Other people describe a brightness to them. They can still be sitting at 14 to 14.5 per cent alcohol but there's a lot going on. I think that sets us apart as much as anything…we're not warm, we're not super cool, but at the same time we fit right in that middle ground. We've got the best of the warm climate and the best of the cool climate, right here in one spot."

You can read more about Lake Breeze and Greg in WBM.