Regional SA Award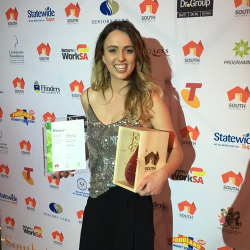 Our Handpicked Festival has been announced the winner of the Programmed Festival and Events Award at the South Australian Regional Awards, Hills & Coast awards dinner. 
Our inaugural 2014 Handpicked Festival was such an outstanding success and this years is gearing up to be even better!
This award is an amazing accolade for us.  A lot of hard work has gone into planning this event, making it so rewarding to be recognised by Brand SA.  Handpicked has really put Langhorne Creek on the map.
Kate is pictured here with the trophy - her smile says it all!