Winemaker of the Year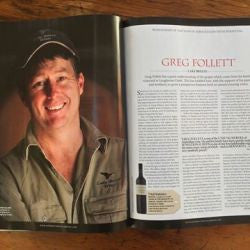 Great news - Greg has been announced as one of the Gourmet Traveller WINE Winemaker of the Year 2015 nominees!
"Greg Follett is one of the unsung heroes of Australian wine. He and his family have been quietly making sensational reds in one of our less fashionable regions for many years, many of which - such as Bernoota - are very modestly priced."
 - Huon Hooke
"Like Greg Follett, the Lake Breeze wines are unassuming but quietly impressive. Never doubt the value they represent."
 - Peter Forrestal
Other nominees include fellow South Australians, Matt Koch, Steve Pannell and Neil and Andrew Pike.  "It is quite humbling to be nominated amongst some of our industries finest winemakers," Greg admits.
Last year Penfold's winemaker, Peter Gago was named Winemaker of the Year, whilst this year's winner will be announced at an awards dinner in Sydney in October.