Handpicked Festival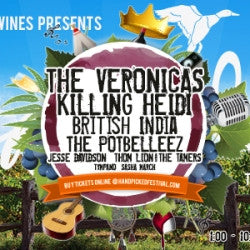 THE VERONICAS   |   KILLING HEIDI
THE POTBELLEEZ  |   BRISITH INDIA
Our Handpicked Festival is set to host two Australian ARIA award winning sensations with the electro-pop, sisterly act of The Veronicas set to headline the 2016 event, while iconic noughties rockers, Killing Heidi, will grace the stage in one of their first live performance in over 10 years.  The Potbelleez and British India will also explode onto the stage and promise to get the Handpicked masses dancing into the night!

also featuring ...
THOM LION & THE TAMERS, SASHA MARCH, TYPANO + JESSE DAVIDSON
tickets on sale NOW!

Don't forget about our TENT CITY ... more info on our website ... www.handpickedfestival.com