James Halliday The Weekend Australian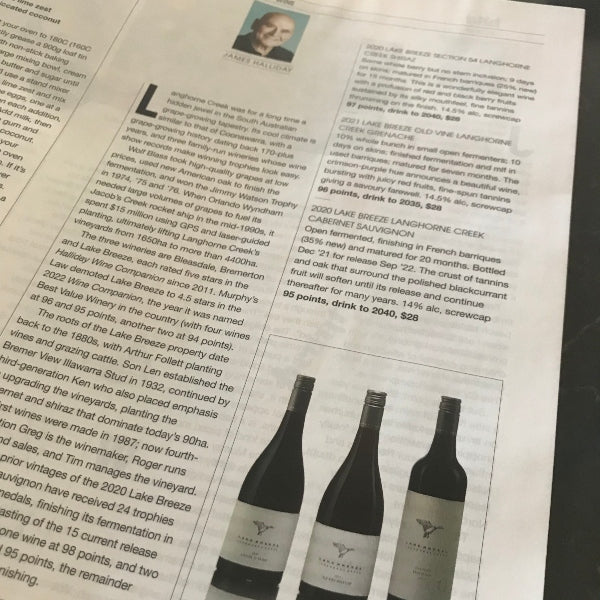 Log into The Australian to see James Halliday's entire article or read here ...
"Langhorne Creek was for a long time a hidden jewel in the South Australian grape-growing tapestry. Its cool climate is similar to that of Coonawarra, with a grape-growing history dating back 170-plus years, and three family-run wineries whose wine show records make winning trophies look easy.

Wolf Blass took high-quality grapes at low prices, used new American oak to finish the fermentation, and won the Jimmy Watson Trophy in 1974, '75 and '76. When Orlando Wyndham needed large volumes of grapes to fuel its Jacob's Creek rocket ship in the mid-1990s, it spent $15 million using GPS and laser-guided planting, ultimately lifting Langhorne Creek's vineyards from 1650ha to 4400ha.

The three wineries are Bleasdale, Bremerton and Lake Breeze, each rated five stars in the Halliday Wine Companion since 2011. Murphy's Law demoted Lake Breeze to 4.5 stars in the 2022 Wine Companion, the year it was named Best Value Winery in the country (with four wines at 96 and 95 points, another two at 94 points).

The roots of the Lake Breeze property date back to the 1880s, with Arthur Follett planting vines and grazing cattle. Son Len established the Bremer View Illawarra Stud in 1932, continued by third-generation Ken who also placed emphasis on upgrading the vineyards, planting the cabernet and shiraz that dominate today's 90ha. The first wines were made in 1987; now fourth-generation Greg is the winemaking, Roger runs export and sales, and Tim manages the vineyard.

The 16 prior vintages of the 2020 Lake Breeze Cabernet Sauvignon have received 24 trophies and 60 gold medals, finishing its fermentation in barriques. My tasting of the 15 current release portfolio yielded one wine at 98 points, and two each at 97, 96 and 95 points, the remainder 94-90, one 88. Astonishing."