Bernoota = riding bareback with a bushranger!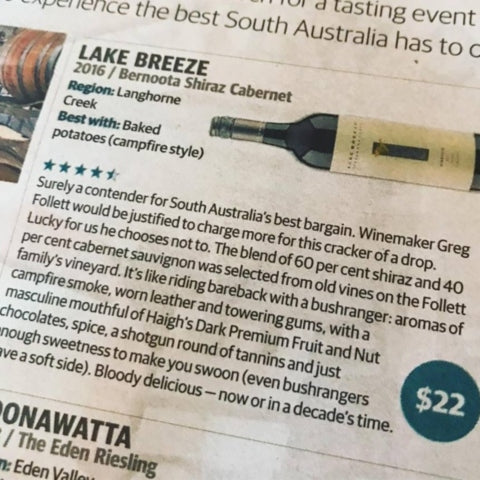 Katie Spain is colourful in more ways than one!  She has written the most intriguing review of our 2016 'Bernoota' in The Advertiser.
"Surely a contender for SA's best bargain. Winemaker Greg Follett would be justified to charge more for this cracker of a drop.  Lucky for us he chooses not to. The blend of 60 percent shiraz and 40 per cent cabernet sauvignon was selected from old vines on the Follett family's vineyard.  It's like riding bareback with a bushranger: aromas of campfire smoke, worn leather and towering gums, with a masculine mouthful of Haigh's Dark Premium Fruit and Nut chocolates, spice, a shotgun round of tannins and just enough sweetness to make you swoon (even bushrangers have a soft side).  Bloody delicious - now or in a decade's time."